Remote teams have a degree of freedom that professionals have never experienced before now. Each individual is able to configure their office and computer to best enable their workflow. But remote work can also be isolating, as millions have learned since 2020. Not seeing your coworkers in person removes the unavoidable personal connections made in hallways, in break rooms, and over cubicle walls. While few people miss the cubes, teams still benefit from the camaraderie that comes from casual communication and the team-building that once occurred so naturally in the office.
Fortunately, remote work isn't the only thing that has evolved, so has the way we communicate and connect through digital channels. Leaders can build stronger remote teams by fostering both engagement and connection. At BrightR Limited, we help to build remote nearshore teams for many different businesses. We've seen what makes remote teams strong and are here to empower your team as a group of connected colleagues.
Why Engagement is Important for Remote Teams
Remote work can be very rewarding, but engagement is key. Isolation is the one thing you want to avoid, as employees are more likely to thrive when both management and their coworkers stay connected. Being engaged includes attending meetings, sending updates, collaborating on projects, and knowing that each person's contributions truly matter.
Keep Team Members Connected. Engagement ensures that each remote team member feels like a connected part of the team, even if they live and work far away from one another.
Boost Morale and Productivity. Employees who are engaged experience higher morale, which translates to motivation and productivity.
Inspire Creative Contributions. Engagement inspires creativity and useful contributions to the team that improve products and workflows.
Build a Teamwork Dynamic. Teams that engage together build a stronger cohesive bond and work better together on shared projects.
Engagement and connection play an important role in a high-functioning remote team. As a leader, you can nurture deeper involvement by creating opportunities for both engagement and connection every day, every week, and every month for your remote teams. Here's how.
1) Keep Communication Channels Open for Your Remote Teams
In remote teams, the equivalent of an "open door policy" is open communication channels. Make sure your inbox is always open. This way, if a team member has a question or concern, you are there to listen and provide answers.
Encourage your team members to maintain an easy flow of communication through email, chat, and platform tools. In remote work, it's better to over-communicate, sharing resources and ideas more freely than we would when working in person. This can help everyone feel more connected and ensure that each person has the information they need from the team to do their part.
You can also establish a chat channel on your preferred platform that is for off-topic discussions. Call it the Water Cooler chat or something similar, just for coworkers to share pleasantries, jokes, and personal news. This can keep work threads tidy while encouraging the team to connect and chat more casually throughout the day.
2) Hold Weekly and Monthly Touch-Base Meetings and Casual Hangouts
Face-to-face meetings can also play an important role. It's one thing to trade emails and even to chat, but another to see one another's smiles, compare funny mugs, and introduce one another to office pets. Collaboration can also happen at a more rapid pace when everyone is present for a simultaneous discussion through video chat. This is why touch-base meetings are a favorite way to nurture remote team engagement.
Touch-base meetings can be anything you need them to be. It can depend on the nature of your team and the work that you do. They are an opportunity for everyone to report their progress, check progress toward goals and deadlines, and bring together work for collaborative results. If everything is on track, touch-base meetings serve as a chance to catch up, laugh, and joke as a team. This, in turn, can help remote team members connect on a fun, personal level.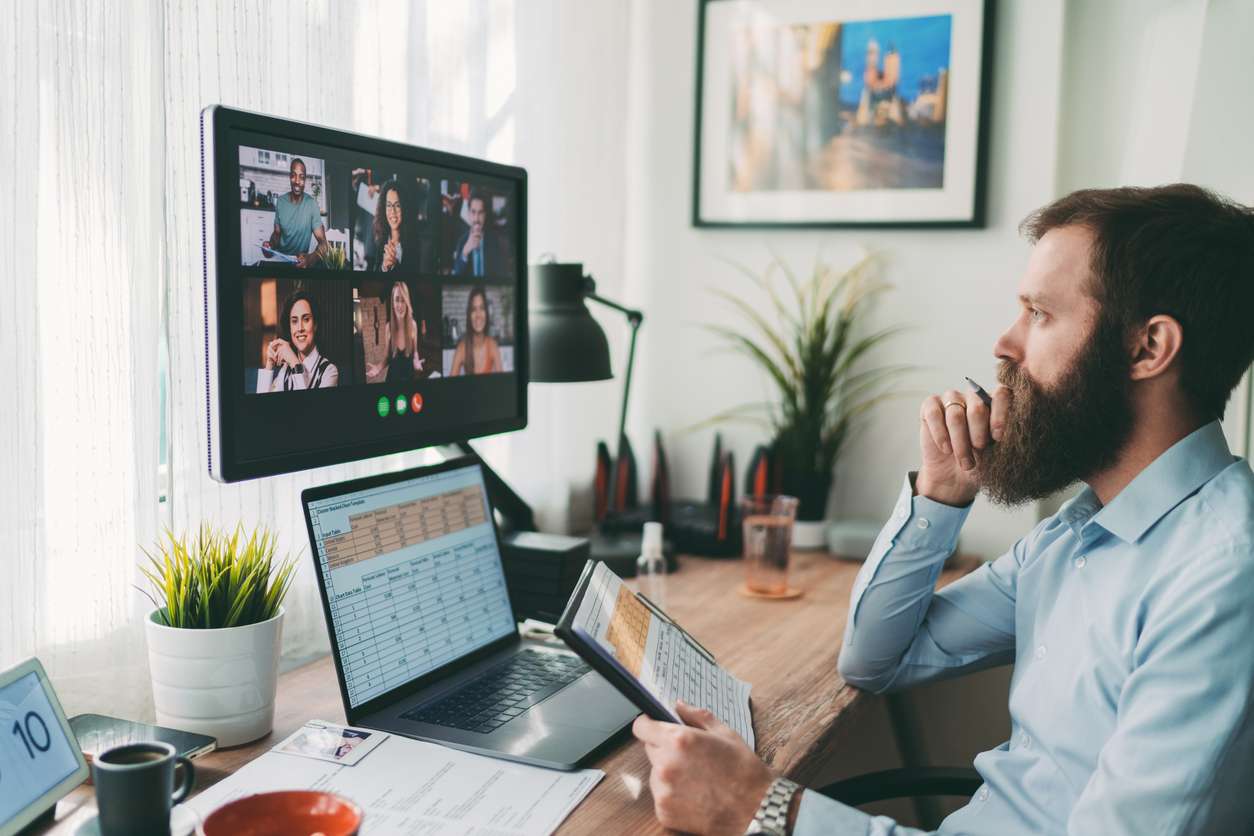 3) Encourage Teamwork With Cloud Collaboration Tools
When it comes to professional connections, collaboration tools are very useful. Tools like Trello or Asana that provide shared calendars, to-do lists, and Kanban boards can help remote teams do more than just split up tasks. They can see when colleagues complete individual tasks, leave comments for one another, and share suggestions.
Cloud-based project tools like Google Suite also include version control. This shows the individual changes to shared files and projects along with timestamps and change records. This makes it possible for remote teams to work as closely together in digital environments as they would if they shared a physical office.
4) Normalize Input, Feedback, and Team Contributions
One of the most important elements of engagement is a feeling that contributions and feedback matter. Remote employees are at risk of feeling invisible unless they are encouraged to provide input, and what they say has an evident effect. This means that welcoming input during meetings, providing and responding to feedback, and building projects with team contributions are all important to increasing involvement for each remote member of the team.
Of course, feedback and contributions are not one direction. You can foster a sense of interconnectivity between team members by encouraging collaboration, shared contributions, and building projects with the input of everyone on the team. In fact, it's best to normalize this type of communication and teamwork to create a connective momentum that maintains itself in addition to your leadership policies regarding feedback.
5) Encourage Social Interactions and Remote Work Friendships
Some offices strictly discourage work socialization, but remote teams benefit from building friendships between teammates. If you want to overcome the isolating factors of remote work, the best solution is to encourage co-workers to become remote friends.
Create opportunities for social interactions in the workflow and the team culture you foster. Schedule 10+ minutes of free chat in your weekly meetings. Participate in sharing memes and jokes on the open chat channel. Take the lead on communication styles that encourage the team to speak more casually to one another and positively encourage the natural formation of friendships in the team.
You can also foster remote work friendships by sharing a few fun events like virtual escape rooms, trivia games, and other activities that align with the interests of your team.
6) Set Goals and Gamify the Efforts of Your Remote Teams
Gamification is a fancy word for something we're all familiar with: Turning team goals into a game. Setting goals together is the first step to teamwork. However, earning points and celebrating milestones is easier when you add a few game elements to the process. In-person workplaces sometimes use bulletin board artwork like game boards or construction paper thermometers to represent shared progress, but a remote team has access to all manner of virtual gamification opportunities.
Explore ways to pair goal completion and milestones with fun graphics, collecting points, and sharing victories. When a big goal is reached, shared celebrations will also bring remote teams together, boosting engagement and fostering friendships.
7) Celebrate Victories, Birthdays, Holidays, and Work Anniversaries
Celebrations are something that every team should share. In the office, victories and birthdays alike are celebrated with food in the break room. Pizzas for victories, cakes for birthdays and anniversaries, cookies for holidays; we know the drill. Coworkers gather, nosh, and share these moments of joy. When working remotely, however, it's up to leadership to define new kinds of celebration to create these shared positive experiences.
Depending on your budget, you may be able to send celebratory care packages to your team members with the same foods and swag to unbox together. You might host a virtual event with video meeting games like Pictionary. You can also initiate a Snapchat-style filter that places a virtual party hat on everyone's head or send everyone a stipend to order themselves a pizza.
No matter how you choose to celebrate, it's these shared moments that bring a team together.
7) Create Opportunities for Career Growth
Another form of engagement is investment in professional growth. The promotion ladder can be harder to see for remote teams, but professional training is actually more accessible. If you want to access the power of ambition and personal drive in your remote team members, opportunities for career growth are essential.
Online training, certification courses, and promotion tracks are a great way to engage your team. These can help them grow as professionals during their time as part of your team. You have a chance not only to engage your people but also to nurture the development of valuable skills within your team. People who see opportunities for growth are more likely to give their all to every project. They will also feel proud of their work, and pursue constant personal development.
8) Foster Group Participation in Remote Work Benefits
You can also increase engagement through benefits designed specifically for remote teams. A lot of standard benefits assume commutes and perks available in the office, but remote-ready benefits are a little different. They help enhance a healthy and complete lifestyle for people who work at home – or on the go.
Not only can benefits participation enrich each remote employee's experience, but group participation in benefits packages can bring your team closer together. Exploring what the remote benefits have to offer and encouraging each other to live their lives can help everyone enjoy a more enriched experience as a remote team.
9) Take Time for Recognition and Credit Contributions
Lastly, always take time for recognition and give credit. Privately or publicly, congratulate people when they do well. If someone's idea was great in the final product, give them credit in the presentation. If someone's feedback helped to hone results, mention their valuable perspective. Anyone will glow when their hard work and insights are recognized and appreciated. This is even more important in a remote team. It ensures each person can see their own integral role in shared success and know they are valued by management and the team.
Build Strong Remote Teams With BrightR Limited
At BrightR Limited, we can help you build fantastic remote teams across international lines. Our nearshore hiring solutions as your Employer of Record make it possible to easily hire pros outside your typical candidate pool from places like Canada and beyond. Whether you are building a creative team to craft innovative projects, a sales force with great teamwork, or a technical team capable of combined precision, we're here to make it happen. Let us connect you with the pros you need to build the best remote team in the industry.
Contact us today to learn more.